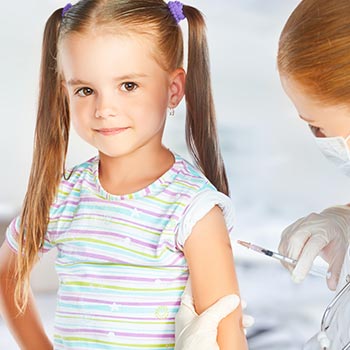 Immunizations & Vaccinations

Children need vaccines to protect them from childhood diseases. But did you know that teens and adults need vaccines too? Vaccines not only help keep you and your family safe, but they also protect others by decreasing the likelihood of diseases spreading.
We provide complete immunization coverage for patients of all ages. The suggested vaccination schedule is listed below.
Ages 0 - 6 years
Diphtheria, Tetanus, Pertussis
IPV (polio)
MMR (Measles, Mumps, Rubella)
Varicella (chickenpox)
Hepatitis A
Hepatitis B
Hib (Haemophilus influenza type b)
Pneumonia
Rotavirus
Ages 7 - 18 years
Tetanus, Diphtheria, Pertussis
Human Papillomavirus (HPV)
Meningococcal
Influenza
Hepatitis A
Hepatitis B
Hib (Haemophilus influenza type b)
IVP (Polio)
MMR (Measles, Mumps, Rubella)
Varicella (Chickenpox)
Ages 19+
Influenza
Tetanus, Diphtheria, Pertussis (Whooping Cough)
Human papillomavirus (HPV) up to age 26 (Men and Women)
Shingles (Zoster)
Pneumonia (Two vaccine types)
Meningitis
Hepatitis A
Hepatitis B
Hib (Haemophilus influenza type b)
MMR (Measles, Mumps, Rubella)
Varicella (Chickenpox)