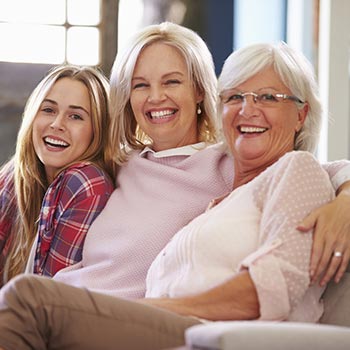 We recognize that each woman is unique and healthcare must be personalized to fit each individual and their healthcare needs.
Women of all ages need an annual Women's Wellness Exam to review current health status and plan appropriate preventative treatment and testing. See below for a list of potential topics:
Discussion of Health History
Review of Medications and Supplements
Nutrition and Exercise Discussion
Emotional Wellness
Breast Exam
Mammogram
Pelvic Exam with Possible Pap Test
Bone Density Screening for Osteoporosis
Immunization Updates
Chronic Disease Detection or Monitoring
Colon Cancer Screening
… and more
Insurance often pays for these exams … don't delay!
The mammogram bus serves our community at PrairieStar Health Center several times a month. Just call 620.663.8484 and ask about this service to make an appointment for your wellness and healthcare.
* If you are uninsured and between the ages of 40 and 64, you may qualify for FREE breast and cervical cancer screenings, including mammograms. Click here for more information.